A2P SMS Traffic On The Increase
Application-to-Person (A2P) SMS revenues are expected to be worth almost $60 billion by 2018 (according to Juniper Research). For enterprise, SMS is still the most secure and reliable option for A2P communications. This is mainly due to the fact that almost all handsets can receive SMS while Over-the-top (OTT) messaging platforms do not have the same reach. In fact, OTT applications often take advantage of this and use SMS to verify user in sign-up process. With this in mind, Mobile Operators would require a flexible SMS Gateway that provides easy-to-use SMS communication application and integration API. This is where Mocean Enterprise SMS Gateway steps in to provide the perfect solution.
The Mocean Enterprise SMS Gateway Solution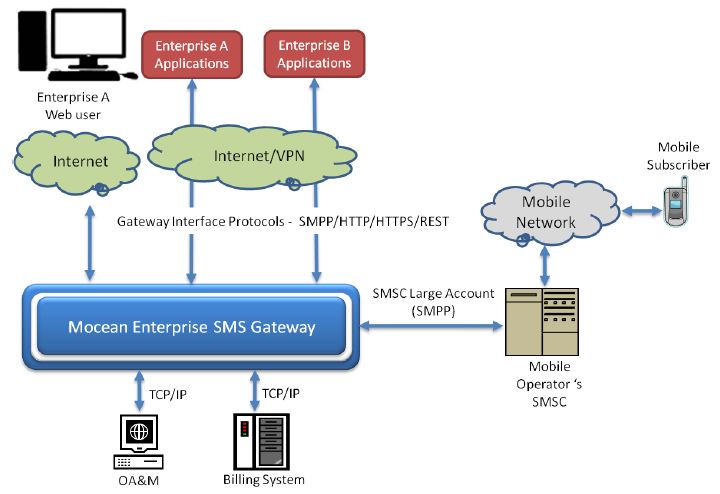 Mocean Enterprise SMS Gateway Solution
The Mocean Enterprise SMS Gateway, which is developed on top of the Mocean Messaging Platform, provides Mobile Operators the ability to provide both web-based SMS communication application and easy-to-use API for enterprise. All the transactions are recorded by the gateway for easy post transactions billing and traffic analysis purposes. There are also built in credit management component that allows the Mobile Operator to enable prepaid or postpaid customer accounts. The gateway also comes with its own OA&M GUI that allows for easy administration and management, completing the solution required by a Mobile Operator to successfully run a Enterprise SMS Gateway.